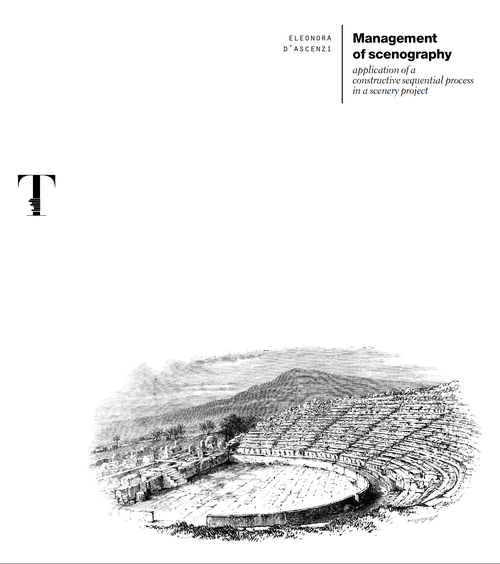 Collana Tesi
Management of scenography
application of a constructive sequential process in a scenery project
Eleonora D'Ascenzi,
didapress
inglese
24x27 cm
64 pagine/pages
ISBN 978-88-9608-087-0

© 2017
Eleonora D'Ascenzi
Rome, 1991, architect. She studied Architecture at the University of Florence and she graduated at the bachelor degree with honors in 2013 pursuing a sustainable project studied with professor Luca Marzi. In 2016 she had the Master's degree in the International Course of Architecture and she graduated with honors and recommendation for publication with professor Saverio Mecca and dott. Alessandra Picchi. Passionate about set scenery introduced a sperimental thesis about time-cost scenography's management.
This research project analyses scenography's time and cost management, heading to use a new method of organisation. In the first phase of the wor it has been made a general analysis of the set scenery that showed common points with architecture but also relevant differences as, for example, the different life-time and the different construction scheduliIn order to consider a possible improvement, and before studying the scenography's organisation, it has been decisive to understand the set scenery mechanisms. The study was carried out through the analysis of preceding experiences and through the direct observation of a set scenery's construction. Due to those instruments and to the involved companies background it has been applied a sequential process with a corresponding breakdown of activities. The new method highlighted the possibility to have a shorter timing and a reduction of the companies numbers by increasing the operators of the remaining companies.
Nella stessa serie