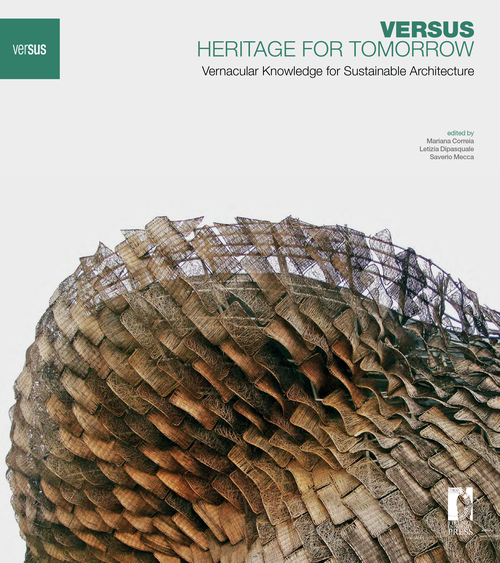 Collana Fuori collana
Versus
Heritage for tomorrow Vernacular Knowledge for Sustainable Architecture
Mariana Correia, Letizia Dipasquale, Saverio Mecca,
fup
24x27 cm
ISBN 978-88-6655-741-8

© 2014
Mariana Correia
PhD, MSc, DPEA-Terre, Architect. Escola Superior Gallaecia President. World Heritage Sites ICOMOS consultant. Steering Committee Member of WHEAP-UNESCO and Mali Earthen Architecture Centre, from Aga Khan Trust for Culture. FCO and FAFB Board of Trustees member. ICOMOS-ISCEAH, ICOMOS-CIAV, PROTERRA, UNESCO Chair-Earthen Architecture expert.
Letizia Dipasquale
Architect, PhD. in Architectural Technologies, research fellow at the Department of Architecture of the Universidad of Florence and member of the research unity INN-LINKS (Research Center on Innovation and Local and Indigenous Knowledge Systems).
Saverio Mecca
Saverio Mecca is Full Professor of Building Production at University of Florence and since November 2009 to 31 December 2012 has been Dean of the Faculty of Architecture and nw, since 1 january 2013, is Dean of new Department of Architecture.
Former Research Fellow at the National Council of Research for research on economics and management of building processes, he was Tenured Professor in Building Technology at University of Calabria and University of Pisa from 1992 to 2002, and then Full Professor in Building Production at the University of Florence.
Vernacular architecture represents a great resource that has considerable potential to define principles for sustainable design and contemporary architecture. This publication is the result of an overall aim to produce a valuable tool for analysis regarding vernacular heritage through different assessments, in order to define principles to consider for sustainable development. VERSUS, HERITAGE FOR TOMORROW: Vernacular Knowledge for Sustainable Architecture is the result of a common effort undertaken by the partners ESG | Escola Superior Gallaecia, Portugal, as Project leader; CRAterre | École Nationale Supérieure d'Architecture de Grenoble, France; DIDA | Università degli Studi di Firenze, Italy; DICAAR | Università degli Studi di Cagliari, Italy; and UPV | Universitat Politècnica de València, Spain. This is the final outcome of VerSus, an European project developed from 2012 to 2014, in the framework of the Culture 2007-2013 programme.
Nella stessa serie